Train Sim World 2 and 3 Instructions
Train Sim World 2 and Train Sim World 3, developed by Dovetail Games, includes native support for the RailDriver Train Cab Controller. No additional software is required for play, as calibration can be done inside the game.
First plug in your RailDriver, wait for Windows to recognize it and then run the game.
Click Settings.
Go to the Controls tab and click 'Advanced Controls' until the RailDriver pops up.
If there is a green check mark by 'Detected', go ahead and press 'E' to calibrate and follow the instructions on the screen. This step can be repeated as many times as necessary to optimize your ideal simulator experience.
Once a green check mark is displayed by 'Calibrated', return to the game by pressing 'Back'.
Enjoy!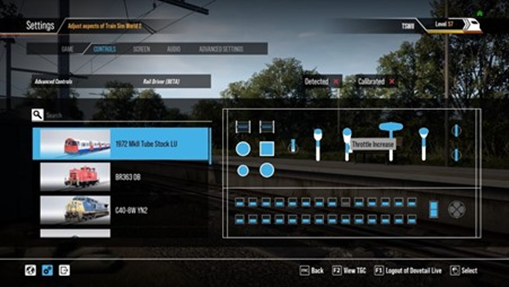 As of the time of writing, the blue buttons for your RailDriver are not yet customizable, but will be in the future. The pre-assigned functions can be found by hovering your mouse cursor over the blue-colored buttons. Gray buttons have nothing assigned for that train. Each locomotive has a unique RailDriver layout and this can be found by selecting a locomotive on the menu on the left and the layout will pop up.
More feature will be developed as time goes on and this page will be updated as necessary.
Need Help?
Our tech support department would be glad to answer any questions you may have! Just call us at 1-800-628-3185 ex. 19 (Monday through Friday, 8AM - 5PM eastern time), or e-mail us at tech@raildriver.com.