Desktop Train Cab Controller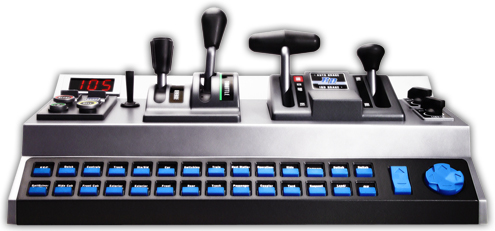 Drive your train with realistic throttle, brake, reverser, and switch controls, plus 34 programmable buttons. RailDriver® Desktop Train Cab Controller — feel like you're driving a train, not a computer.
The RailDriver® Desktop Train Cab Controller includes prototypical levers and controls for the ultimate interface to computer-based railroading. An internal bass speaker supplements your existing sound system and adds realistic vibration to the controls.
Read product reviews from a few of our many customers.
NOTE: Please contact us or place a request in the shipping notes if you prefer a plain white box for a gift order.
Horn & Cab Buttons

A three-digit LED speedometer, horn or whistle lever, and eight programmable cab buttons.

Throttle and Reverser

Features a gated dynamic brake, and a
continuous reverser with
three positive stops

Brake Levers

Independent and automatic brakes and three-position rotary switches
for lights and wipers.

Programmable Keys

A zoom rocker switch, four-way pan pad, and twenty-eight programmable buttons for simulation commands.
RailDriver Desktop Train Cab Controller
Trainz 12 from N3V
Save $10 by ordering the bundle
RailDriver
®

Compatibility
RailDriver®
Compatibility

ME/2000

XP (32)

Vista (32)

Vista (64)

Windows 7 (32/64)

Windows 8 (32/64)

Trainz 2009 / 2010 / 12
Run8*
My First Trainz Set
Trainz Railwayz / 2006
Trainz Classics

Yes

Trainz 2004
World of Subways 2 & 3*
Train Simulator 2014 (RailWorks)
TrainMaster 4.3
MSTS

**

Open Rails*
*World of Subways 2, Open Rails, and Run8 do not require additional software from us. They provide native support.
Yes* Though working for most, there are rare reports of Train Simulator 2014 not working correctly with the RailDriver on some systems. Please contact support if you encounter connection problems, as there is a good chance we can help you solve the issue.
Links
Specifications
Requires a USB connection (USB HID device)
Currently unsupported on Mac operating systems
Control Unit Dimensions and Weight
13.5" x 7.0" x 4.0" (34cm x 18cm x 10cm)
5.5 lbs (2.5 kg)
Shipping Dimensions and Weight
19.0" x 9.0" x 7.5" (48cm x 24cm x 19cm)
9.5 lbs (4.3 kg)
Product Manual
Product Features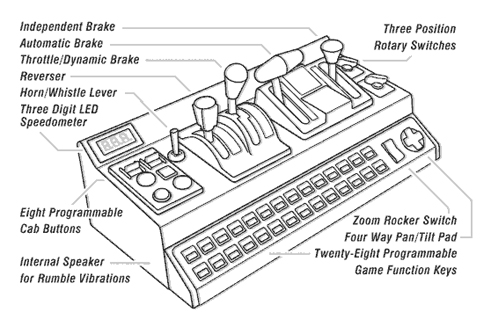 The RailDriver Cab Maker lets you edit the functions of all levers, switches, and keys on the Desktop Train Cab Controller to create a custom operating panel for your favorite cab. In addition, our Software Development Kit (SDK) gives programmers the ability to use the Desktop Train Cab Controller to support other games. See our Technical Downloads page for more information.