Decorative Hitch Cover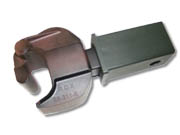 Honestly, who wouldn't want to look like they're driving a train?
The inspiration for this little beauty came when one of our employees backed the RailDriver® simulator trailer into the flat bed trailer in the parking lot and then claimed he was only trying to 'couple' them. Then, after we covered up the dent with a RailDriver® bumper sticker, we thought: "Why not make a coupler hitch for the company van?" Since nobody stopped us, we went ahead with the project.
This cast high-impact plastic hitch cover is a great addition to any rail enthusiast's vehicle. The coupler is a rusty dark brown and with the included adapter fits either an 1¼" or 2" receiver.
Product Requirements:
Coupler Dimensions and Weight:
7.5" x 4.0" x 2.0" (19cm x 10cm x 5cm)
2.3 lbs (1.0 kg)
WARNING: Please do not attempt to couple your vehicle to any actual rolling stock. P.I. Engineering, Inc. will not be held responsible for the results of any such attempt. This is a decorative hitch only, and is not made for any load-bearing capacity.