Please Note: If you are only ordering small items such as this, the UPS and FedEx shipping rates offered in our online system can be quite high. As an alternative, we offer shipping via US Postal Service for a flat rate of $6.85. Please email us or call with the part numbers and quantity you require and we will reply to receive your payment information. sales@raildriver.com or (517)655-5523 Ext. 18
RailDriver Replacement Parts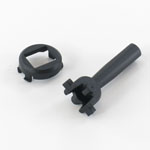 RailDriver Horn Ring and Lever
Overzealous use of the horn lever can result in breaking off the lever or clips on the retaining ring which hold it in place. This kit replaces both.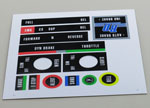 RailDriver Sticker Set
This is the same sticker set included with the RailDriver - used to identify the throttle, brakes, and switches.