Authorized Resellers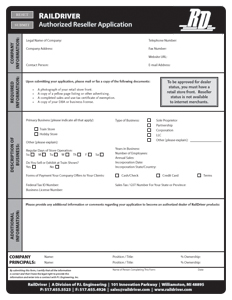 If you would like to become an authorized reseller of RailDriver® products, please take a couple of minutes to complete the following reseller application.
Upon receiving the necessary information, our sales department will review your reseller application and respond promptly.
We require all resellers to have a retail store front. Internet-only merchants are not eligible. Please feel free to contact us with any questions you might have.
International Distribution

UK and Europe
Keyboard Specialists Ltd
Wednesbury WS10 8XB, United Kingdom
Phone: +44 (0) 20 3474 0234
Fax: +44 (0) 20 3474 0235
E-mail: info@keyboardspecialists.co.uk

Canada
P.O. Box 9022
Saskatoon, SK, Canada S7K 7E7
Phone: (306) 382-5995
Fax: (306) 382-4995
Toll-Free: (866) 335-3746
E-mail: sales@extremegamingdevices.com

Australia