RailDriver
®

Products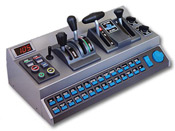 Drive your train simulation game with realistic throttle, brake, reverser, and switch controls, plus 34 programmable buttons. With the RailDriver Desktop Train Cab Controller, you feel like you're driving a train - not a computer.
Read unbiased, third party reviews of RailDriver products here.

This high-impact plastic decorative hitch cover is a great addition to any rail enthusiast's vehicle. The coupler is a rusty dark brown and with the included adapter it can fit either a 1¼" or a 2" receiver.