TrainMaster™ 4.3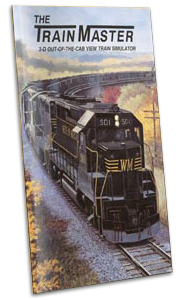 The Original TrainMaster™
Out-of-the-cab 3D simulator view
Now offered at a reduced price
Program last updated in 2001
Performs well on older technology
Includes full RailDriver™ support
If you have an ATI graphics card, please click here for more information on program compatibility.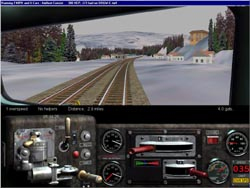 Still considered one of the most accurate train simulators, TrainMaster™ 4.3 features 3D animation, realistic topography, real rail lines, accurate train physics, superior sound, and realistic activities to challenge your operating skills.
The original TrainMaster™ 4.3 is a Windows-based train simulation that realistically replicates train-handling and locomotive response on North American lines. Out-of-the-cab graphics and realistic sounds provide a sense of actually operating a train. Operate the train and adhere to the operating rules, speed limits, and signal indications. Derail, and you crash and burn. Run a red signal, your engineer's license is revoked.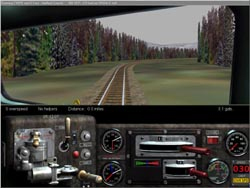 Control a throttle, dynamic brake, train and engine brakes, horn, bell and sand. Time delays for air brakes accurately reflect different trains. Braking forces realistically vary. Color spotlight signals represent those used by many railroads.
The cab-like lower screen displays the movable throttle, both automatic and independent brake handles, gauges for the train line, brake cylinder, main reservoir air pressure, ammeter, speedometer, speed limit indicators, location, distance, fuel consumed, and acceleration. Realistic sounds replicate diesel engine noise, bell and horn.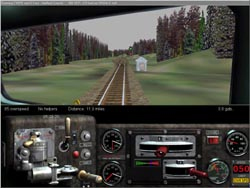 Locomotive engineers have proclaimed TrainMaster 4.3 to be the most realistic Windows-based retail simulator for replicating train operations and the required actions by the operator. The model includes the train characteristics and features that replicate the actual response of the train being operated over the line. It's the next best thing to a commercial simulator or an actual train.
CD Contents:
The software contains six routes and 22 trains of various types. The routes included in with TrainMaster™ 4.3 are:
Cane Creek Subdivision from Potash to Brendel, UT

Includes 37 miles of track each way
Dry, rugged, western country mountain railroading


Denver to Fraser, CO

Includes 67 miles of track each way
Formerly the Denver Rio Grande and Western
Beautiful and challenging mountain railroading


Horseshoe Curve from Altoona to Gallitzin, PA

Includes 28 miles of track each way
A scenic line, formerly Penn Central


Washington, DC to Brunswick, MD

Includes 42 miles of track each way
Scenic operations over undulating gradients
Features Maryland Rail Commuter and Amtrak stations


Brunswick to Dickerson Run Generating Station

Includes 12 miles of track each way
Subset of the Washington-Brunswick line
A tricky unit coal train operation


Virginia Crossroads, Fredericksburg to Washington, DC

Includes 44 miles of track each way
Commuter, Amtrak, and freight territory
Mixtures of urban and suburban operation

Known Issue (ATI Graphics Card and Windows SP2)
It has come to our recent attention that the combination of some types of ATI graphics cards with Windows XP Service Pack 2 will not allow your TrainMaster™ software to load. We apologize for the inconvenience of having to return your TrainMaster™ software, but please feel free to contact us for a refund.